PW-CX6500B Water-cooled Xenon Lamp Aging Test Chamber For Sale
Introduction:
Xenon lamp spectrum vs. solar spectrum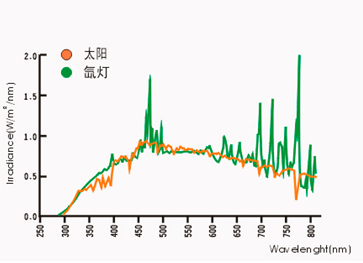 Product application:
The PW-CX6500B Xenon lamp is a weathering chamber using a long arc water-cooled xenon lamp as the light source. It provides environmental simulation and accelerated ageing tests for scientific research, product development and quality control. It is widely used in industries such as automotive materials, plastics, packaging, paints, inks, dyes, stabilizers, textiles, electronics and electrical appliances.
Product Features:
PLC controller from Emerson, USA (EMERSON), automatic control, safe and reliable operation
Touch screen human-machine interface, easy to operate and powerful
Real-time display and automatic control of sample rack temperature (BST, BPT), working room temperature (DB), relative humidity, light irradiance energy, time
Equipment status, equipment fault monitoring
Setting of test parameters
Alarm and information display function
Specification:
Overall dimensions: 124cm×114cm×202cm (width×depth×height)
Exposure area: 6500cm2 / about 65 standard samples (140mm × 70mm)
Light source: 6.5kW long-arc water-cooled xenon lamp
Light source life: about 2000h (to irradiance 0.51 W/m2 @ 340nm)
Irradiance display waveband: 340nm, 420nm, 300 ~ 400nm optional
Irradiance range:
0.3 W/m2~1.33W/m2 (@340nm)
0.6 W/m2~2.4 W/m2(@420nm)
29 W/m2~130 W/m2(@300~400nm)
Sample table temperature: Black plate temperature: 40℃~110℃
Black label temperature: 40℃~120℃
The temperature inside the box is 38℃~80℃.
Humidity inside the box: When light: 30%RH~75%RH (related to temperature)
When dark: up to 100%RH
Test conditions: light, dark, spray-free combination
Test standards supported by
Conform to standards: SAE J2412, SAE J2527, ASTM G 155 ISO 105-B02, ISO 105-B04, ISO 105-B06, ISO 4892-2-A, ISO 11341-1,
GB/T 16422-2, GB/T 1865
▲Users can set their own test parameters to meet the requirements of most common standards at home and abroad.
Company Profile
PW Instruments (Guangdong) Co., Ltd is committed to helping customers reach their goals in terms of quality and cost-effectiveness by providing the latest testing instruments as per internationally recognized standards. With an extensive global supply chain in some countries, we are trusted by industry leaders, research scientists and laboratory management managers.
PW was established in March 2007 by Mr. Peiwu Liu, a senior expert in the field of innovative R/D. Our production base is located in a world-renowned manufacturing area in Dongguan city, Guangdong Province, where the technology boom has attracted a large number of professional engineers and elites.
In order to better serve customers in East China, PW Instruments (Shanghai) Co., Ltd. was established in Shanghai, and an instrument exhibition hall and testing center were set up in Suzhou Industrial Park. It is an enterprise integrating R&D, production, sales, import and export. It has been recognized by customers for many years. Through years of operation, the company has gathered a group of talents with considerable qualifications in the industry and accumulated a large number of high-quality customers at home and abroad in the past decade.
PW has its own industrial design capabilities, the appearance and texture of products are good, the measurement and control system department has independent research and development capabilities, and the performance of the developed measurement and control system is stable. It is designed and developed completely in accordance with various national standards, international standards, and industry standards such as GB, ASTM, AATSS, JIS, EN, etc., and is currently used by users in various industries around the world.
At present, the products developed, produced and sold by the company are divided into three parts: material testing machine division, reliability test chamber division, and measurement division. The products are universal material testing machine, customized tensile and compression testing machine, peel strength testing machine, physical testing equipment, image measuring instrument, 2.5-dimensional, three-dimensional coordinate measuring machine, three-dimensional scanner, full-size measuring instrument, and rapid size measuring instrument, precision oven, high and low temperature test box, constant temperature and humidity test box, rapid temperature change test box, thermal shock test box, walk-in constant temperature and humidity room, UV ultraviolet weathering test box, xenon lamp weathering test box, full sets of test equipment for new energy lithium batteries, etc.
The products are widely used in automobiles and parts, 3C, smart wear, new energy lithium batteries, molds, casting die-casting, furniture, tape, film, die cutting, packaging, aerospace, scientific research institutions, quality inspection, drug inspection and other fields.
At this moment, we will not be complacent about our achievements. We will work harder than ever to provide customers with affordable and effective solutions through extensive communication with potential customers around the world to stimulate vitality and enrich experience.
PW is going to fulfill the ambition and vision to be one of the best manufacturers in the world under the powerful leadership of General Manager Liu.
Wordshop Equipments
Machine Video
Corporate Culture
Vision: Become a world-renowned instrument manufacturer
Mission: Provide customers with high-quality testing equipment
Values: Customer satisfaction is our aim.