PW-SD Series Sand Dust Automatic Test Chamber Manufacturer Supply
Use
This test box is mainly used for electronic and electrical products to assess whether the housing and seals can ensure the good working performance of the equipment and components during the sand and dust test
Structure and material
Material: Liner: SUS#304 high-grade stainless steel plate
Outer box: A3 steel plate electrostatic spraying
Specimen power socket: dustproof socket
Controller: touch screen controller communication control (this controller has the following multiple arbitrary setting control functions)
Adjustable dust blowing time (stop, blowing)
Cycle period: arbitrarily adjustable
Preset test time: 0.1H-9999.9H adjustable
Power on: off-on-off
With tired time function and power-off protection function
Blower: All-plastic centrifugal fan
Vacuum system: equipped with pressure gauge, air filter, pressure regulating triple piece, connecting pipe (vacuum pump is equipped separately, please specify when ordering)
Sand and dust schematic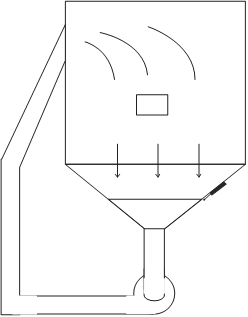 This equipment implements standards
La and Lb in GB2423.37-89; GB 4208-98; IEC60529. The test box is made according to the following standard requirements
The SC series dustproof test box is designed and manufactured in accordance with GB4208-93 (equivalent to IEC60529-2001) "Enclosure Protection Level (IP Code)". It is suitable for electrical products to carry out the first characteristic numbers of 5 and 6 (IPX5 and IPX6). ) Sand and dust test.
In accordance with the requirements of the standard, this test box uses an artificially simulated dust environment to inspect the dust-proof ability of the tested product. Its specific requirements and qualification criteria should be in accordance with GB4208-93 (IEC60529-2001) or product-related standard requirements.
Another note: This test box can meet the requirements of GB2423, GB4706, GB4208, DIN, household appliances, low-voltage electrical appliances, automobile, motorcycle parts shell protection level test requirements. This device cannot meet the sand dust test with wind source in GJB150.
Technical Parameters
1. Studio size (mm): 1000×1000×1000 (length×width×height)
Approximate outer box size (mm): 1520×1320×1850 (length×width×height)
2. Inner box material: stainless steel plate
3. Outer box material: cold-rolled steel plate electrostatic spraying
4. Door: Large tempered glass observation window
5. Air duct system: unique air duct design to ensure that the box produces a non-layered vertical circulating airflow
6. Temperature in the box: 15~35°C
7. Relative humidity in the box; 45%~75%RH
8. Net nominal wire diameter: 50um
10. Nominal distance between lines; not more than 70um
11. The amount of dust in the box: 2Kg/m
12. Air velocity: ≤2m/s
13. Talc dosage: 2kg~4kg/ m³
14. Dust blowing time: 0~9999.9h can be set
15. Control system: imported high precision PID digital display instrument
16. PT100 test sensor
17: Safety protection device
a). Instrument over temperature protection function
b). Power phase loss protection
c). Leakage circuit protection
18. The wind speed is not adjustable: 0-10m/s
19. Sand dust concentration: 0-50/100/200/1000/20000mg/m³, optional. Optional.
20. Power supply: AC 220V, 50Hz
Protective device
1. Safe and reliable grounding device
2. Motor overload protection
The main parameters:
Standard basis
GB4208-93、IEC60529-2001
Environmental conditions
Air temperature: 0~35℃
Relative humidity: 25%~75%RH
Atmospheric pressure: 86~106kpa
Power supply
Rated voltage: AC220V
Rated frequency: 50HZ
Input power: about 3KW
Talc dosage
2kg/m3
Power supply
AC220V,50HZ
Company Profile
PW Instruments (Guangdong) Co., Ltd is committed to helping customers reach their goals in terms of quality and cost-effectiveness by providing the latest testing instruments as per internationally recognized standards. With an extensive global supply chain in some countries, we are trusted by industry leaders, research scientists and laboratory management managers.
PW was established in March 2007 by Mr. Peiwu Liu, a senior expert in the field of innovative R/D. Our production base is located in a world-renowned manufacturing area in Dongguan city, Guangdong Province, where the technology boom has attracted a large number of professional engineers and elites.
In order to better serve customers in East China, PW Instruments (Shanghai) Co., Ltd. was established in Shanghai, and an instrument exhibition hall and testing center were set up in Suzhou Industrial Park. It is an enterprise integrating R&D, production, sales, import and export. It has been recognized by customers for many years. Through years of operation, the company has gathered a group of talents with considerable qualifications in the industry and accumulated a large number of high-quality customers at home and abroad in the past decade.
PW has its own industrial design capabilities, the appearance and texture of products are good, the measurement and control system department has independent research and development capabilities, and the performance of the developed measurement and control system is stable. It is designed and developed completely in accordance with various national standards, international standards, and industry standards such as GB, ASTM, AATSS, JIS, EN, etc., and is currently used by users in various industries around the world.
At present, the products developed, produced and sold by the company are divided into three parts: material testing machine division, reliability test chamber division, and measurement division. The products are universal material testing machine, customized tensile and compression testing machine, peel strength testing machine, physical testing equipment, image measuring instrument, 2.5-dimensional, three-dimensional coordinate measuring machine, three-dimensional scanner, full-size measuring instrument, and rapid size measuring instrument, precision oven, high and low temperature test box, constant temperature and humidity test box, rapid temperature change test box, thermal shock test box, walk-in constant temperature and humidity room, UV ultraviolet weathering test box, xenon lamp weathering test box, full sets of test equipment for new energy lithium batteries, etc.
The products are widely used in automobiles and parts, 3C, smart wear, new energy lithium batteries, molds, casting die-casting, furniture, tape, film, die cutting, packaging, aerospace, scientific research institutions, quality inspection, drug inspection and other fields.
At this moment, we will not be complacent about our achievements. We will work harder than ever to provide customers with affordable and effective solutions through extensive communication with potential customers around the world to stimulate vitality and enrich experience.
PW is going to fulfill the ambition and vision to be one of the best manufacturers in the world under the powerful leadership of General Manager Liu.
Wordshop Equipments
Machine Video
Corporate Culture
Vision: Become a world-renowned instrument manufacturer
Mission: Provide customers with high-quality testing equipment
Values: Customer satisfaction is our aim.